Projects
Promotion of a more varied and increased number of local and specific income generation activities among the underprivileged communities, that make a sustainable and long-term livelihood possible
Establishing common fodder plots to prevent the livestock and other indigenous species from shrinking
Helping more children who have been identified with HIV/AIDS and the children of PLHAs
Continuing the care for the eldery to cover the maximum number of old men and women who are increasingly abandoned by their children
Promoting herbal pesticides and other organic inputs for extensive practice of sustainable agriculture and spread it in the entire farming community
Raising awareness about menstruation and providing girls and women with eco-friendly sanitary napkins


Tailoring Skill Development training - Funded By Guru Krupa Foundation, USA
The proposed project is to set up Tailoring skill training centres in 2 places in Vennandur block.
Girls and women in the age group of 18 to 35 will be targeted for the training.
Total of 80 girls will be benefitted in one year.
The project has to be carried out for a minimum period of 3 years.
Total of 240 girls will be benefitted in 3 years.
The trainers will be trained by industry experts, the curriculum design will also be done in consultation with the industry experts.
Guest lectures by Industry experts will also be arranged to provide exposure to the trainees.
Apart from tailoring training, life skills training will also be given to the women.
After successful completion of the course the women will be placed in jobs in nearby textile industries.
Certificates will be provided to the women on successful completion of the course.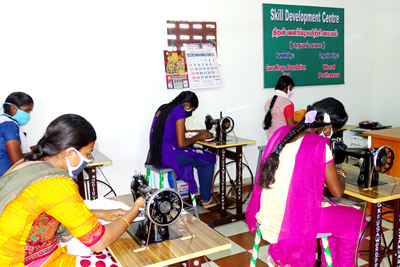 My Dream Scholarship – funded by Cholamandalam finance and Investment Ltd, Chennai
"My Dream" scholarship program utilizes a comprehensive poverty alleviation model that focuses on individual children of trucker communities, while bringing last change on a community-wide scale.
The program's primary objective is to provide severely underprivileged children with the resources they need for college education, technical education or higher studies instead of having to enter into the labour force, and thereafter keeping them on track to help them become independent and productive citizens through educational and training opportunities.
40 children are get scholarship in this project.
205 children of truck and lorry drivers community has received scholarship for higher Education. Apart from Namakkal, this year additionally 4 districts Erode, Salem, Dharmapuri and krishnagiri district students also get benefited out of this program. 132 are studying in Under Graduation, 6 are in Post Graduation,. 41students studying in professional course, 6 are in Diploma course. 20 children are school going children, whose parents are affected by Covid-19 and these children are belong to other states.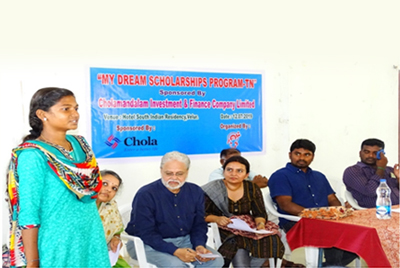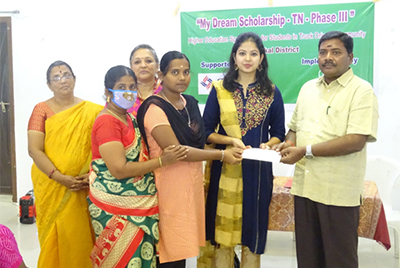 Providing Infrastructure to Adidravida Welfare School Kalankani , Namakkal, funded by Kometsu, Chennai
643 students and 45 teachers are in the school. The school infrastructure like building, furniture, water facilities, toilets, teaching staff are not sufficient according to student strength and teachers strength in the school. AD department is constructing new building for Higher Secondary classes, but they need desk and benches. The teachers are also need tables and chairs. WORD provided 100 desk and 100 benches for students, 20 table and 20 chair for teachers, 5 book shelf for library, 100 plastic chairs and one computer was give to school on 11.2.21 by Director of Kometsu, Chennai.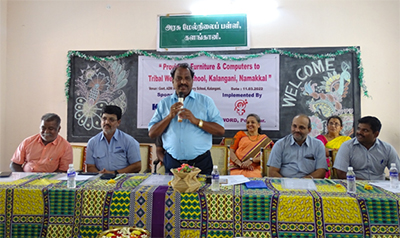 Education projects to Government schools located at Zamin Elampalli, ponmalarpalayam, Thidumal, Alavaipatti and Vellaipillayar koil villages of Namakkal dt - Funded by Petrofac, Chennai
Government Middle school – Ponmalarpalayam has received 5 computers and 2 steel beuro to keep student document safe. Computers will enhance the student knowledge in system work, downloading their important education information.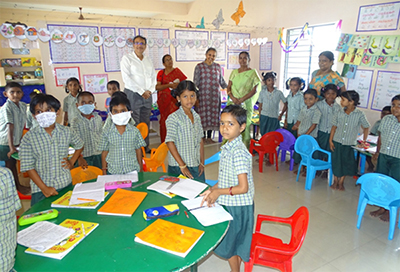 Government Middle school – Zamin Ellampalli has received 2 tables, 2 chairs and 1 steel bero. Teachers are going to use this Table and chairs. Apart from this, tiles has laid in one class room and 2 wash basin are installed for students hand wash purpose.


Government Middle school – Thidumal has received one set of sanitary complex for Girls, because already existing closet is damaged. So, WORD has constructed two toilets, 7 urinals and one hand wash basin in the premises of school and it will help girls students.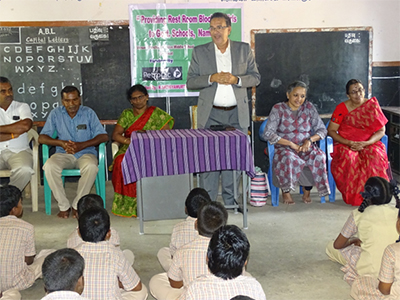 Government Girls Higher Secondary school, Vellai pillaiyar koil, Vennathur has received one bore well with submersible motor bump, because water facility available now is not sufficient according to the strengthen of the students.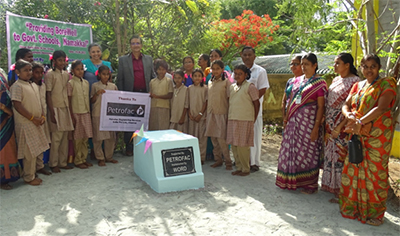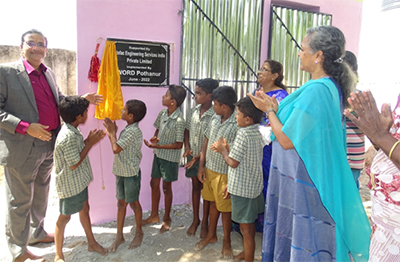 Government Primary school – Alavaipatti, has received tiles for two class room and one wash basin for the usage of students. 2 toilets were constructed with one wash basin for boys. For safe drinking water one bore well has installed, submersible pump has inserted into the bore well for fetching water, connections are made through pipeline to over head tank. Government Primary School – Aramathampalayam s has received 2 sets of table and chair, one computer and sports materials for students. All these are help students to enhance their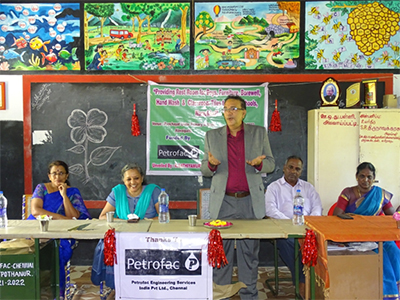 WASH program at Government Middle School, Vengamedu, Paramathi Velur, Namakkal dt funded by PwC
School at Vengamedu has student strength of 550. But toilet facilities are not sufficient according to the students strength. Under CSR fund PwC has approved WORD to renovate girls toilet. Height of the compound wall of the toilet is raised and proper roofing is laid, 2 wash basin built near water tank area and proper flooring will be provided inside the toilet area.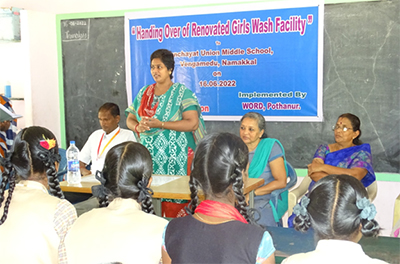 Medical Equipment to Government Hospital, Namakkal - funded by PwC, New Delhi
During 2nd lock down WORD has distributed medical equipments like oxygen concentrator, triple layer mask, Sterile Gloves 6.5, Sterile gloves 7, hand sanitizer, Bp apparatus, stethoscope etc, had given to Government Hospital..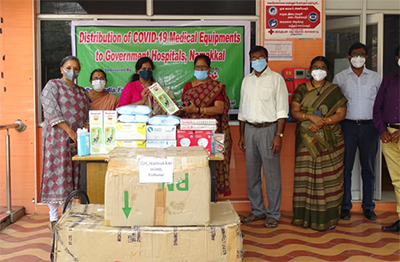 Covid – 19 - Medical Equipments Given to PHC, Kabilamalai
During 2nd lock down WORD has distributed medical equipments like oxygen concentrator, pulse Oxygen meter, triple layer mask, N95 mask, 100 bed sheets, 100 pillow covers, Nebulizer, surgical Gloves, cylinderO2 A type, oxygen mask adult & pediatric are given to Primary Health Center kabilamalai and Erumapatti.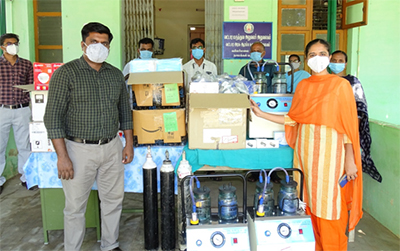 Covid – 19 Medical Equipments to Government Head Quarters (GH) hospital, Namakkal funded by Rotork
At the time of second wave of Covid -19 spreading WORD has given 500 pulse Oxygen meter, 1000 triple layer mask, 1000 face shield to GH Namakkal and it was distributed to front line workers, health workers etc.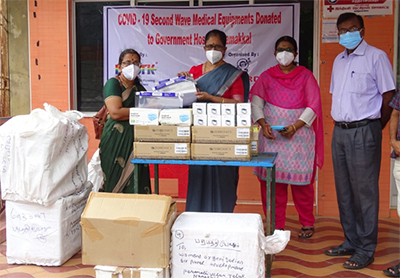 Production Unit – funded by GKF, US.
Those who are get training at WORD skill center are get job opportunity at this production unit. We named this unit as Petals garments; here women jointly taking efforts to pick up job order of stitching towels from various power loom in and around vennathur. Other than bath towels, they also take order from companies to stitch yellow bags. 10 power machines are installed, 10 women are regularly getting job in this unit and they earn 3000 to 5000 per month.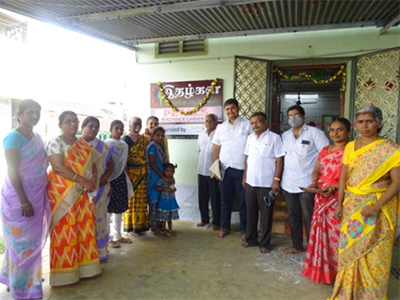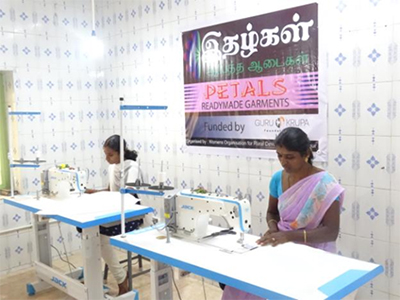 photogallery